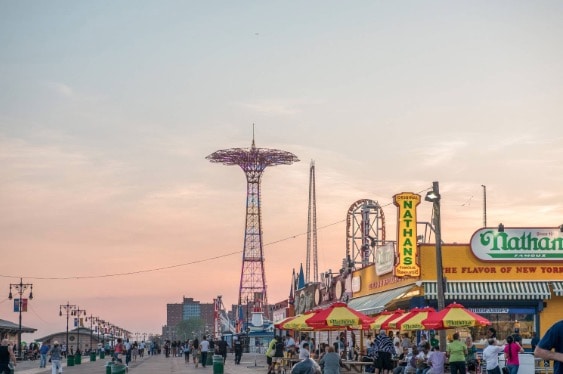 Coney Island is a peninsula south of Brooklyn that is approximately 6.4 kilometers long and 800 meters wide. Coney Island has been a hot stop in Brooklyn NY for both tourist leisure and amusement parks during the last two centuries.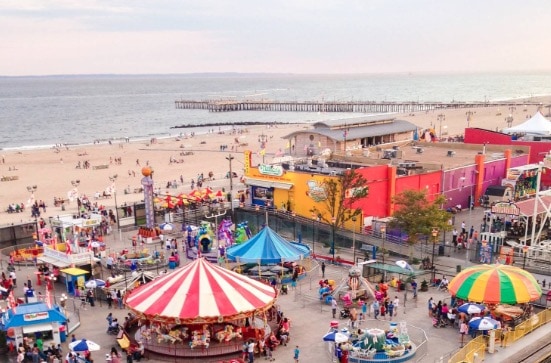 Currently, Coney Island is a place of interest throughout the year. The New York Aquarium exhibits more than 350 marine species. It is the only oceanographic museum in the city. In the summer, the beach is very popular, with a lively seafront promenade. During the night people can enjoy the Parachute Jump, a tower 80 meters high, built for the Universal Exhibition of 1939 which became an attraction of the Steeplechase Park. Coney Island is illuminated with different colors to the rhythm of the music during the evening. The Mermaid Parade is celebrated in mid-June, where women and men dressed as mermaids. On July 4th, participants from around the world compete to eat the largest number of hot dogs in 10 minutes at the Nathan's Famous restaurant.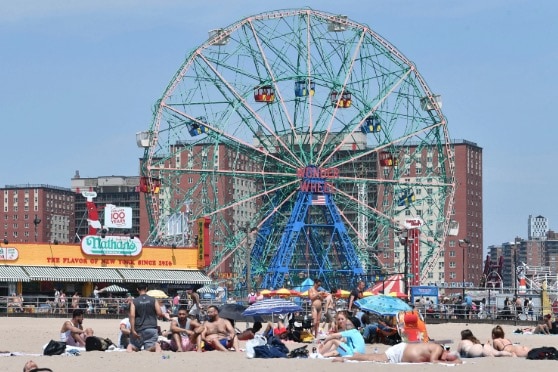 Coney Island hosts many rides for both children and adults.
The Ferris wheel was opened in 1920 and continues to spin in front of the sea. It is one of the best wheels in the world, and has 24 compartments that swing. The eccentric twist of the construction impresses visitors.
Another mythical attraction on Connie Island is Cyclone, which is a wooden coaster, built in 1927. It is much stronger than it seems from the bottom.
If you are brave, take a ride on the Thunderbolt roller coaster, it is a huge wheel with cabins that swing from one side to another. It starts down 90 degrees and continues with many twists and turns. As you go up, you are get dizzy and excited equally with views of the colors and the sea from a very high elevation.
There are many activities, that you can do free in Coney Island like walk the boardwalk or swimming on the beach (watch out for jellyfish).
Among the paid attractions you can find:
Luna Park: uses a local currency "credit moon". They exchange for a few dollars at the box office.
$ 1 = 1 credit
100+40 BONUS credits = 140 credits.
You can use it on all rides and games. In addition, you can add food with a drink, chips, a hot dog or pizza for $ 6.
Here are prices of other attractions:
Sunlite Water Adventure and Coney's Rides:
Ages from 2 to 7: $15.95
Ages 8 and Up: $27.95
Ages 62 and Up: $22.95
Sunlite Water Adventure:
Ages from 2 to 7: $11.95
Ages 8 and Up: $19.95
Ages 62 and Up: $15.95
Rides and Attractions
Ages from 2 to 7: $8.95
Ages 8 and Up: $15.95
Ages 62 and Up: $12.95
Luna Park is an amusement park on Coney Island, south of Brooklyn. It opened for the first time in 1903. It is one of the oldest parks in the United States. They closed it in 1944 and opened it again in 2010 with new attractions.
The park has 40 mechanical games, from the traditional carousel, the wheel of fortune and even the legendary Cyclone Roller Coaster.
The park is on the beach, so it does not open year-round. It usually opens in early April until the end of October. And it opens every day from June to August, on other months you can find it open on weekends.
The cyclone has become synonymous with Coney Island Since 1927. And It is the iconic roller coaster for New Yorkers.
In the attractive summer of NYC, it is necessary to see challenging and addictive death. After the famous first drop 85 feet, passengers suffer a terrible barrage of twists and turns at 60 miles per hour, but once the ride is done, you cannot wait to do it again.
Coney Island Park has a variety of birds of up to eighty species. You can hear the voices of parakeets in the forest. In addition, casuarina woodlands, coastal forests, grasslands, and mangroves.
Coney Island Park is considered ecologically sustainable and has many environmental initiatives, which concentrate on recycling. Casuarina trees were collected and used as seats, boardwalk, benches, and banners
Coney Island was opened to the public on Saturday, May 25th.
Sunlite Water Adventure is open on weekends from 10am-8pm.
Rides and Attractions open on Saturday from 11 am to 9 pm and on Sunday and Monday from 11 am to 8 pm.
You will have no problem finding a bite to eat at Coney Island, where the hot dog, ice cream and pie sellers are even accessible every few boards on the boardwalk.
Nathan's Original Hot Dogs
Nathan's is the most famous hot dog shop in the United States, and the chips are served with a cheese sauce that fulfills the dream of any lover of fair food. It is beach food in its most authentic form. The icon adds something to the Coney Island experience, with its huge and bright yellow poster, it is impossible to get lost.
Nathan's hosts the most famous hot-dog eating competition, the Hot Dog food contest of July 4th, during which superhuman competitors try to eat as many as possible in 10 minutes. You can even buy frog legs in on Surf Avenue.
Williams Candy
Are you looking for dessert after Nathan's hot dog? Candy Williams is a popular choice, located next door to the main attractions and containing chewy, candied Granny Smith sugars apples. Other offers include chocolate, ice cream, and some very much vaunted candy marshmallow twigs.
Ruby Bar and Grill
This is a restaurant overlooking the sea, where shirtless men and women in swimsuits often come directly on the beach and make a straight line from the bar. Clients sitting at communal tables happily consume beers in plastic cups and classic treats like corn dogs, hot sausages and pizza.
The business has existed in one form or another since 1934, and it's bar and roof are partially made of old wood from the Rambla.
Totonno
Totonno is the main attraction for fans of Hard-Core pizza. Since 1924, it has been serving Napolitano treats, which some New Yorkers call the best in the city.
Grimaldi
It is acclaimed pizzeria in New York City, best known for its location near the Brooklyn Bridge, also has a branch on Surf Avenue, not far from the cyclone.