What is Insurance Fraud?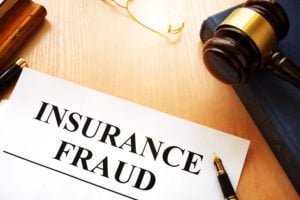 Insurance fraud is defined as any action meant to defraud an insurance policy. This takes place when an insured or claimant attempts to demand monetary compensation or benefits they're not eligible for.  Insurance fraud occurs when an insurance provider, broker, adjuster or customer engages in a willful deception so as to acquire a benefit they aren't entitled to.
It may happen throughout the process of purchasing, using, selling or underwriting insurance. Insurance fraud could fall into various categories – from people committing fraud against customers – to people committing fraud against insurance firms. Insurance fraud, estimated to be at more than a hundred billion dollars each year, not just imposes costs on insurance companies, it's also financially detrimental to customers, and damaging to society and the economy as a whole.
Insurance Fraud Classifications
Insurance fraud is typically categorized as either soft or hard.
Soft, also known as opportunistic fraud, happens when a person pads a legitimate claim. A common example of this is when a business owner lists fewer employees or misrepresents the work their employees do, in order to pay the minimum worker's compensation premiums.
Hard, on the other hand, is when a person fakes a mishap/accident or intentionally fabricates claims.
Those who commit hard insurance fraud range from ordinary individuals, who do it to cover their expenses/deductibles – to technicians and doctors who inflate the price of their services or charge for services not provided. Organized crime also has a hand in insurance fraud and the filing of false insurance claims.
There is debate as to what the most common type of insurance fraud is, and the most common type that a private investigator comes across, involving individuals are listed below.
Because of the increasing instances of insurance fraud, insurance carriers hire insurance fraud investigators on a regular basis. Insurance fraud cases are commonly filed when someone who is not entitled to receive claims files for benefits, or when the person tries to inflate their claim to receive  more than what he/she is due. Insurance fraud penalties are aimed towards anyone who commits any type of insurance fraud.
Types Of Insurance Fraud
There are many types of insurance fraud examples, too many to list here, but the most common ones a private investigator comes across are:
Auto Insurance Fraud
Auto Insurance Fraud occurs when someone deceives an insurance company regarding a claim that involves their commercial or personal motor vehicle. This action may include giving false documentation, or misleading information to have the claim filed processed and/or paid.
There are many ways in which this occurs, for example, misrepresenting facts on applications, providing the incorrect information during the application process, giving a bad address so rates are decreased, not reporting that the vehicle was previously flooded, or claiming that the car was stolen but in reality, the vehicle's owner simply couldn't afford the payments.
Cases of false and exaggerated injuries during vehicle accidents or vehicle accident "set-ups" are also common.
Insurance fraud should be reported to the insurance company, and can be done anonymously. The insurance company will then challenge the claims filed and either not pay the claim or recommend charging the offender criminally.
Workers Compensation Fraud
Workers compensation fraud is one of the most serious types of claims that affects businesses, as it leads to a huge amount of loss for them in resources, higher premiums and other unforeseen expenses. This happens when a worker falsely claims that an accident occurred, or exaggerates an injury at a job.
This is not easy to prove, especially when an employee was able to present paperwork from a doctor or alleged witnesses to justify his/her claim. One of the main jobs of an insurance fraud investigator is to help gather evidence to prove whether the submitted documents and information are legitimate.
Medical and Health Insurance Fraud
This type of insurance fraud occurs when misleading or false health information is presented to health insurance companies in order to receive unauthorized benefits. This is typically filed by the individual who is insured, in order to take advantage of benefits, such as extended time off from work, paying for medical procedures not related to the alleged injury, to cover an injury sustained elsewhere, or other monetary compensation.
Healthcare Fraud
This includes drug fraud, medical fraud and health insurance fraud. The most common type of Healthcare Fraud occurs when an individual or a company attempts to defraud a large insurer such as Blue Cross and Blue Shield. Offenders also attempt to falsely qualify for Federal or State Healthcare benefits.
Federal healthcare benefits include Medicare and are funded either in part or in full by the US Government. State healthcare funded by local governments and aims to provide health coverage to low-income individuals mostly via Medicaid. These benefits are also subject to fraud. When someone becomes injured, or harmed, and claims something beyond what he or she supposed to receive from the insurer, he or she may face  charges that will either penalize him/her of a specific amount and/or put the offender in jail.
Catastrophe-Related Property Fraud
This most commonly occurs when someone claims that an asset, which was not owned by them in the first place, was either damaged or missing due to a catastrophe. For example, when a hurricane hits a city, like hurricane Sandy, the person who is a renter or homeowners, places a claim for an expensive appliance that was never purchased in the first place.
Crop Insurance Fraud
Farmers, ranchers and the rest of the agriculture producers purchase crop insurance to cover in case of financial losses incurred due to natural calamities and disasters, like floods, drought and hail. Unfortunately, crop insurance fraud in states like New Jersey and other states may still occur. This happens when farmers, ranchers and the rest of the agriculture producers place claims for crops that never existed nor planted.
Insurance Fraud Investigators in New York
Experts estimate that 10% of the money spent on healthcare each year is paid out to fraudulent insurance claims. When charged, offenders face large fines and jail time.
Insurance fraud Attorneys and Private investigators help insurance carriers and businesses investigate and gather evidence on suspected offenders. They will conduct the required field work, interviews, and represent insurance companies and businesses in court for their right to not pay out fraudulent claims.
Private Investigators use tools like background searches, surveillance, SIU techniques, witness interviews, and accident scene reconstruction to help clients in their case. These tasks, conducted mostly through field efforts, are invaluable for Adjustors, Third Party Administrators and Attorneys looking for a fast and effective way to handle their suspected fraudulent claims.
Contact TIO Square for a quick consultation and assistance with your insurance files.